Biography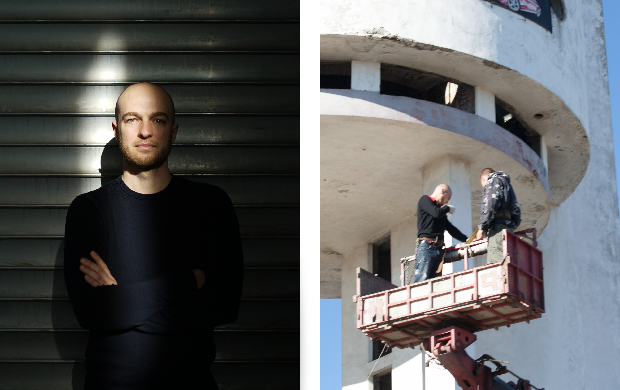 It is by discovering graffiti at the age of 14 that Matthieu Martin is inspired into the creative process, a practice within the urban space that will lay the first milestones of his singular journey.
In 2009, the vast repression of graffiti and its systematic removal by municipal services led Martin to dilute the aerosol in favor of documenting this process in great detail, thus giving birth to the Cover Up​ series. This project was followed by numerous trips to all over Europe and North America, including Toronto for his studies at the Sheridan College of Arts, during which he continued to develop this series of photographs on the repression of graffiti intensively.
Both his series of paintings ​Sprayed,​ and his series of sculptures ​Povera Mobility a​ re a long-term labor of love for Matthieu Martin. His work is greatly inspired by his career in graffiti, lectures on architecture & public space, and not least of all, by the delicate link between aesthetics and politics.
In 2012, he participated in the 57th Salon de Montrouge and by the age of 25, Matthieu Martin had discovered the book ​Le Design Au-Delà du Visible​ by Lucius Burckhardt, a second revelation that ultimately led him to experiment with the concept of minimal intervention during the 2nd Ural Contemporary Art Biennale in Russia for which he created the work ​Refresh The Revolution​. ​Refresh The Revolution​ was a piece in which Martin breathes a second wave of life into a constructivist building which had been all but abandoned for decades. The influence of the graffiti is apparent despite the veil of white-wash meant to refurbish the building, a project that has had a huge impact in Russia as it has allowed for this building to be classified as a historical monument. A representative work of Martin's art, ​Refresh the Revolution​ is a bridge between graffiti and conceptual art where the codes of contemporary art question the norms of urban space.
Exhibition selection :
Museum of Fine Arts (Rouen), Frac Normandie (Caen), Pavillon de l'Arsenal (Paris), Aperto Gallery (Saint-Pétersbourg, Russia ; Berlin, Germany), National Center for Contemporary Art NCCA (Nizhny Novgorod, Russia), Kunsthalle Wilhemshafen (Wilhemshafen, Germany), ALB Gallery (Paris).
His works are also a part of the collections of Frac Normandie, Caen and Rouen.
In 2014, the ​eradication​ of 5 Pointz, considered by many to be the Mecca of graffiti, compelled Martin to go to New York which ended up being the culmination of the ​Cover Up​ project, started 5 years earlier. That same year, Matthieu Martin published this series as his first book, a work prefaced by Denys Riout that was added to Ed Rusha's Books & Co project, followed by an exhibition at Gagosian Gallery in Paris in 2015 and subsequently in 2016 in Los Angeles, California.
Between 2015 and 2018, Martin produced two films during a residency at the National Center for Contemporary Art. His first film, ​Nizhny Novgorod: Russian Detroit​, follows the lesser-known story of the unexpected collaboration between Joseph Stalin and Henri Ford during the 1930s, and his second film,​ La Valse De Vladimir​, is a poetic immersion around the last hyperboloid tour of the world of the architect Vladimir Choukhov.
In 2015, Matthieu Martin was nominated for the SAM Art Project Prize and in 2017 for the Young Prize of the Academy der Kunst in Berlin. In 2020 he completed a residency followed by an exhibition at the Museum of Contemporary Art in Quéretaro, Mexico.
In 2018, Martin began a thesis within the RADIAN program (Research in Art, Design, Innovation, Architecture in Normandy) aimed at rethinking the creation process within urban space, a project to which he is currently dedicated, and whose importance has even been magnified due to the Covid-19 pandemic.
Matthieu Martin prefers to work mainly in the city, that is to say in direct connection with the urban space where his works are conceived. He also has a workshop in Berlin as well as in Bayeux, Normandy.
Biographie
C'est en découvrant le graffiti à 14 ans que Matthieu Martin entre dans le processus de création. Un pratique au sein de l'espace urbain qui posera les premiers repèrent de son parcours singulier.
En 2009, la répression grandissante des graffitis et leur recouvrement systématique par les services municipaux poussent alors l'artiste à délaisser l'aérosol pour documenter minutieusement ce processus, donnant ainsi naissance à la série Cover Up. S'ensuit de nombreux voyages en Europe mais aussi en Amérique du Nord, où il étudie plusieurs mois au Sheridan College of Arts de Toronto, et pendant lesquels il continue de développer intensément cette série de photographies sur la répression des graffitis.
Une période très prolifique pour Matthieu Martin qui produit dans la foulée sa série de peintures sur magazines Sprayed et sa série de sculptures Povera Mobility. Des œuvres influencées par son parcours dans le graffiti, par ses lectures sur l'architecture et l'espace public mais aussi par le lien sensible entre esthétique et politique.
En 2012, il participe au 57ème Salon de Montrouge.
À 25 ans, Matthieu Martin découvre le livre Le design au-delà du visible de Lucius Burckhardt, une seconde révélation qui le pousse à expérimenter le concept d'intervention minimale lors de la 2ème Ural Biennale d'art contemporain en Russie pour laquelle il réalise l'œuvre Refresh the revolution. Une intervention où il repeint un bâtiment constructiviste abandonné depuis des années dans le but de lui redonner vie. L'influence du graffiti est aussi palpable que questionnée car son geste s'arrête à la remise en blanc du bâtiment. Une action qui aura un énorme impact en Russie puisqu'elle permettra à ce bâtiment d'être classé monument historique.
Une œuvre représentative de son art, passerelle entre le graffiti et l'art conceptuel où les codes de l'art contemporain questionnent les normes de l'espace urbain.
Sélection d'expositions :
Musée des Beaux-arts (Rouen), Frac Normandie (Caen), Pavillon de l'Arsenal (Paris), Galerie Aperto (Saint-Pétersbourg, Russie ; Berlin, Allemagne), Centre Nationnal d'Art Contemporain NCCA (Nijni Novgorod, Russie), Kunsthalle Wilhemshafen (Wilhemshafen, Allemagne), Galerie ALB (Paris).
Ses œuvres font également partie de la collection du Frac Normandie, Caen et Rouen.
En 2014, l'effacement de 5 pointz, considéré comme la Mecque du graffiti, pousse l'artiste à se rendre à New York. Cette destruction sonne comme le point culminant du projet Cover Up démarré 5 ans plus tôt. Cette même année, Matthieu Martin fait de cette série son 1er livre d'artiste, un ouvrage préfacé par Denys Riout qui a été ajouté au projet Books & Co d'Ed Rusha, bénéficiant ainsi d'une exposition à la galerie Gagosian (Paris 2015 ; Los Angeles 2016, USA).
Entre 2015 et 2018, il entreprend la réalisation de 2 films lors d'une résidence au Centre National d'Art Contemporain Nizhny Novgorod : Russian Detroit, sur les traces de la collaboration inattendue entre Joseph Staline et Henri Ford durant les années 1930, et La valse de Vladimir, immersion poétique autour de la dernière tour hyperboloïde au monde de l'architecte Vladimir Shukhov.
En 2015, Matthieu Martin est nominé pour le Prix SAM Art Project et en 2017 pour le prix Jeune de l'Akademie der Kunst à Berlin. En 2020 il réalise une résidence suivie d'une exposition au Musée d'Art Contemporain de Quéretaro (Mexique).
En 2018, il débute ainsi une thèse au sein du programme RADIAN (Recherches en Art, Design, Innovation, Architecture en Normandie) visant à repenser le processus création au sein de l'espace urbain, projet auquel il se consacre actuellement en raison de la pandémie de Covid-19.
Matthieu Martin travaille essentiellement In Cité, c'est à dire en lien direct avec l'espace urbain où ses œuvres sont conçues. Il dispose également d'un atelier à Berlin ainsi qu'à Bayeux, en Normandie.